The advantages of silk pajamas over other pajamas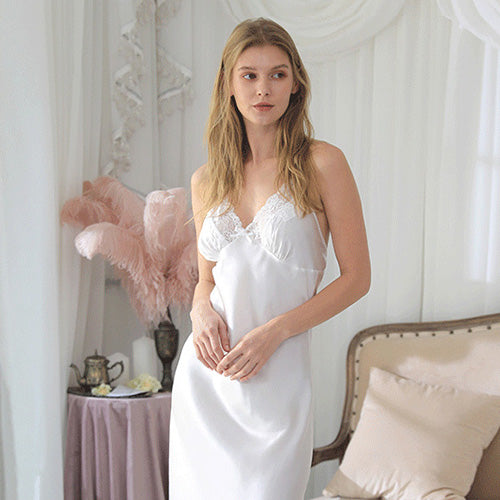 Silk pajamas' perspiration and air permeability are absolutely the best and are the best choice both for the hot summer and house heating period. Silk pajamas are made of natural silk and rich in amino acids, which are good for you. Silk pajamas are more soft and smooth, more conducive to care for delicate skin, and prevent you from wrinkles.
In ancient times, the gorgeous and delicate appearance of silk has always been used by nobles, and silk has always been a symbol of nobility!
If there were ten people, nine would say silk pajamas are good, and the rest feels like silk pajamas are expensive. Why do those nine people still insist on choosing silk pajamas?
Silk is the raw material of silk pajamas, that is a kind of natural protein fiber, has the reputation of "fiber queen" and "second skin of the human body".
Compared with other fabrics, the fiber structure of silk is more fine and fluffy. Silk is the least frictional and the most skin-friendly when it comes into contact with the skin. In summer, the cool feeling of silk can increase the comfort of clothes.
In addition, silk has excellent moisture absorption and moisture permeability, which is incomparable to synthetic fiber.
Overall, silk pajamas are the best choice for those who want a comfortable home experience.
Silk pajamas are more breathable and moisture-absorbent than other fabrics. In summer, when the weather is dry, silk pajamas absorb moisture from the air to moisturize your skin, and when you sweat, they help remove moisture. So if f you wear silk pajamas in summer, you'll feel cool and comfortable.
There are many silk product choices besides pajamas (silk shorts, silk robe, silk camisole, silk slip nightgown, silk nightdress, etc.), such as silk bathrobes, silk duvet covers, silk pillows, silk sheets/silk crib sheets...
---