2023 Christmas Special offer
The best gift for a loved one.
Luxury Sleepwear & Bedding
We use 19&22 Momme mulberry silk fabrics to design comfortable and luxurious sleepwear and bedding for you to enjoy your leisure time better.
Silk Gifts For Him
We use high quality and 100% natural mulberry silk in all products. We also offer customization services
WHAT OUR CUSTOMERS SAY...
Love this nightgown so much I bought a second one. It's high quality for the reasonable price. My boyfriend likes it too. I washed it in a lingerie bag on delicate (hang dry) and it turned out great.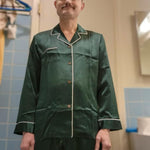 For Christmas I bought myself 8 large 22 momme silk men's long pajamas. I bought 2 red, 2 blue, 2 silver, and 2 green. They are the most comfortable, silky, and sensual mens silk pajamas I have ever worn. They make me feel Heavenly perfect. I wewr them every night when I sleep. I love them and recommend them.
I purchased this white silk camisole on behalf of my wife. She remarked about its quality and comfort in addition to being true to size. It's also easy to style – she anticipates wearing it to dress up or dress down.
I purchased this white silk shirt nearly a year ago and wore it for the first time last week.The fit is perfect and the material looks so fancy and expensive.I wore the shirt with a red blazer, it kept me warm also because of the silk.I plan to get another one.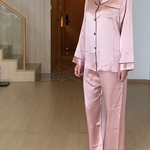 Very smooth, and fit me perfectly, I've never tried silk pajamas before, this set was just the one I expected, will be buying more, and recommend it to my friends.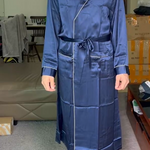 A gift for my husband. And he loves it. Cool in the heat and warm when it's cold. Lightweight with a great comfy texture.
Very luxurious robe. Love it and wear it often. Reversible is nice - cotton when I need warmth, and silk when I need cool. Thank you.
Pure Natural silk
we use pure natural, chemical-free materials to manufacture our silk products, with less water or energy waste.