Five Main Benefits of Silk Bedding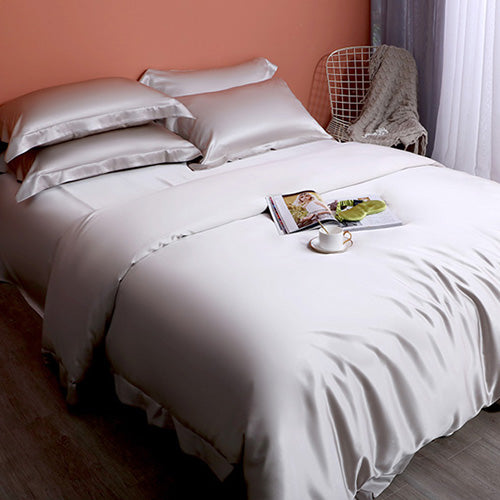 Silk is still considered the epitome of luxury and brings many surprising benefits to our health. The TOP five benefits are:
Being a natural fiber, silk is far more breathable than synthetic ones. Natural fibers tend to have a more luxurious feel and bounce. This bouncing property is present in all-natural fibers like silk and wool. The material's unique, three-dimensional crimp makes it resilient, which helps the fibers behave similar to tiny springs, allowing you to sleep peacefully. This is why natural fibers like silk are a good choice for a more organic lifestyle.
Prevent Overheating
During sleep, the duvet becoming over warm thanks to trapped heat is a common issue. Silk wicks moisture and heat away twice as fast as cotton, even though cotton can reduce the humidity present in your bed by up to 50%.
A silk duvet cover also ensures that there'll be no static electricity or heat conductivity, making it the perfect choice for solo sleepers as well as partnered ones. Also, silk beddings are light and airy feeling helping you sleep soundly. This type of bedding tends to wrap around your body without feeling heavy.
So, silk can bring you a good night's sleep and waking up feeling fresh.
Reduces Allergies
Common dust mite-related allergies, such as asthma and sneezing fits, are caused by the mites' droppings. When you inhale the enzymes released from these droppings, the allergic reaction begins. Silk is a naturally hypoallergenic fabric. Therefore, allergies can be reduced by the removal of extra moisture as this prevents allergens like dust mites from living in your bed.
Decreases Chemical Exposure
In order to avoid ruining the silk fabric's soft, smooth texture, silk isn't treated with chemicals as doing and it is naturally wrinkle-free and fire-resistant.
So pure silk bedding reduces your exposure to dangerous chemicals that may be used in other kinds of bedding.
Aids in Soothing Sore Skin
Silk soothes sore skin by being extremely soft. If you have a rash or sunburn and sleep on silk bedding, the fabric glides over these sore areas and won't chafe and the rash or sunburn has a better chance of healing faster.
For relief from shingles, dry skin, and eczema, using silk bedding is a good idea. Not only does silk create much less pressure on your body than cotton, but its tightly-woven sheets allow easier movement and less resistance. As mentioned earlier, this fabric eliminates points of contact and drapes over your entire body.
Furthermore, the amino acids in silk also help reabsorb moisture naturally. This helps rejuvenate skin and is greatly beneficial for people with skin diseases like eczema.
So silk bedding is the best choice to protect you from being a pain in the rash or sunburn, and good for their recovery.
Improves Your Complexion and Hair
Silk reduces the friction caused by skin, resulting in it looking even and clear, and improves your complexion.
Your hair doesn't tear when you sleep on a silk pillowcase which helps give it a healthy shine. So a silk pillowcase can help keep your hair soft, moisturized, and untangled, preventing damage.
A good night's rest is essential for the human body to function healthily. By reducing skin irritation, dust mite and allergen growth, and disturbances in heat regulation, silk bedding does exactly that.
Wish you a good sleep every night with silk beddings accompanying!
---